Vivekananda Charitable Multi-Therapy Dispensary
The Dispensary started functioning from 26th March 2018, with various departments managed by expert Doctors. At present 60 senior Doctors are giving Honorary services to the Dispensary and a total of 46724 patients (Male, Female & child) have been treated during the Financial year. Further we have fully equipped Dental department, Pathological lab, X-Ray unit as well as Pharmaceutical Unit. During the Financial Year 2019-20, 1406 pathological tests were conducted. In the Pharmaceutical Units medicines are sold at a Discount of 15 %.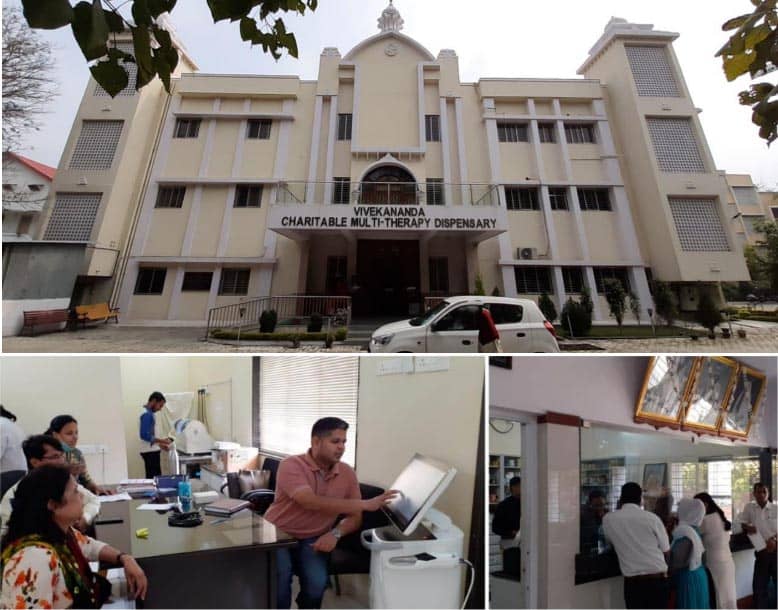 The Multi Therapy dispensary includes the following specialties:
General Medical treatments
Dental Check-up
Ophthalmology
ENT
Dermatology
Pediatrics – Child Check-up & treatment
Pathology Lab
Physiotherapy Unit
Psychiatry
Orthopedics
Nephrology – Renal diseases treatment
X-Ray Unit
Ayurvedic Treatment
Homoeopathy treatment
Medicine Store
Charitable Homeopathy Dispensary
The Math has been running a Charitable Homeopathy Dispensary in the poor locality of Indora, which is about 6 Km away from the Math Centre, since 1953. During this year, nearly 24119 patients were treated in this dispensary with nominal charges and 1319 patients were treated free. People from the adjoining poor locality derive benefit from this dispensary.
Physiotherapy Unit
The Unit is housed with all modern Physiotherapy instruments. Two Physiotherapists assisted by 2 assistants and more than 3 volunteers are managing the Unit under the supervision of the Monk –In-Charge. The Unit has treated about 44870 patients of which free patients were 1130 during the year.
Charitable Mobile Dispensary
The mobile dispensary was started in Matador Van in the year 1986. At present the Mobile dispensary is running on a new Van (Force Traveller-A.C.+P.S.) with the financial assistance from the Blind Foundation of India, U.S.A. With the Doctors and the other Paramedical Staff of 3 persons, the vehicle plies on an average 60 km. every day (except Monday) on Bhandara, Umred and Koradi routes and covers more than 60 villages in a week. During the year 41089 patients were treated of which free patients were 4120.
Free Eye Camps
The Math has organized Three Free Eye Camps at Village Kadholi, Kanhan and Chirva (covering adjoining villages of Mathani,Ajangaon,Vadoda,Kamptee, Mouda,Kadholi etc.) nearly 35-40 Km away from the Nagpur for the poor and needy persons in collaboration with Mahatme Eye Hospital. In these camps, 809 patients were treated, of which 415 patients were given spectacles & Cataract Operations were performed on 90 patients. The expenses required for medicines, spectacles and surgery for the patients were borne by the Math, for which Math has spent approximately Rupees Three Lakh Fifty Thousand only.