Swami Vivekananda's ideas of Man-Making and Character-Building Education serve as the guiding light for the educational activities conducted by Ramakrishna Math, Nagpur.
The students today find themselves at the crossroads. The fast changing social trends on one end and the dynamic technological advances along with cut-throat competitions which have changed the socio-economic structures on the other end, have made the students panicked and devoid of life-guiding principles. Thus, it is our attempt to equip them with necessary values and vision so that they themselves build up their own lives. Accomplishing material prosperity along with inner enrichment is to be harmoniously worked out.
---
Vivekananda Vidyarthi Bhavan (Student Hostel)
A hostel is being run by the Math for the poor and the aspiring students (boys only) who want to take further college education after clearing their H.S.S.C. examination. In accordance with Swamijis ideals of man making and character building education we try to develop the overall personality of the students. 
The Vivekananda Vidyarthi Bhavan started in the year 1932 with 4-5 students. A New Hostel Building, with all modern amenities has now been constructed, for accommodating 50 Students, and 50 students joined in the month of June–July 2019.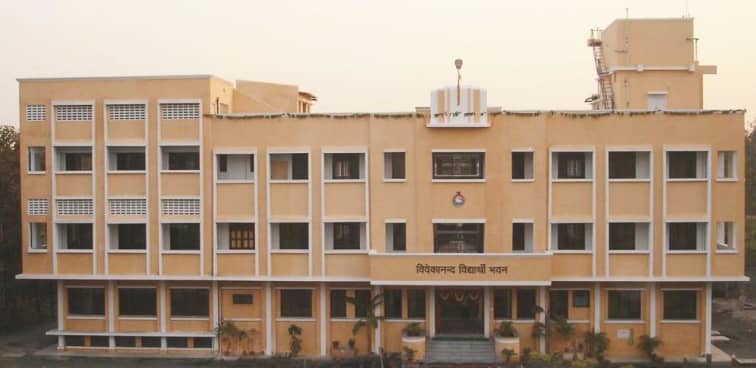 Very nominal fees are charged, and only from few students. The Math bears all the expenses of lodging and boarding to most of the poor students.
Special attention is paid to the physical, intellectual, and moral development of the students.
The students have a Study Circle, which organizes various programmes such as debates, symposium, and lectures by eminent Professors and Doctors. Lectures of eminent scholars are arranged very often for the benefit of the students. Prizes are awarded to meritorious students in the form of educational and spiritual books.
The students also have access to facilities including games and a textbooks library in the hostel. A full-fledged Gymnasium has been established at the basement of the Hostel where all students derive benefits from the same.
A Computer Room with 14 computers and 10 Laptops have also arranged in the Hostel wherein regular training is being imparted to the students. The students also take advantage of the Math Public Library free of cost. Weekly scriptural classes are held for inculcating moral and spiritual values to the students. The students who have spent a few years in this hostel have become responsible citizens and many of them are serving the society in their respective fields of activities. The passed-out Graduate & post Graduate students have been selected for Jobs in reputed Organization.
Every year on the occasion of Swami Niranjananananda Jayanti i.e. on the auspicious occasion Shravan Purnima, the Vidyarthi Bhavan organizes a special puja, Vidyarthi Homa for the Good of the students
Swaraswati Puja is also organized on a grand scale by the students of Vidyarthi Bhavan, which includes a seminars by eminent speakers, followed by Devotional songs, all under the guidance of Warden Maharaj and Adhyaksha Maharaj of the Math
---
Values Education Program for youth (Youth Forum)
The Values Educational Activities being run by the Ramakrishna Order are centered around Swami Vivekananda's ideas and ideals which also are the legacy of the great sages and seers. The central theme behind these activities is Man-Making Character Building.
To actualize the above objective, a weekly activity is organized every Sunday for boys aged between 16 and 28 years. The detailed programme is as follows:
10:00 am: Chanting/Guided Meditation
First & Third Sunday: Group Discussions, Documentaries, Interviews, Short Films, Work-sheets, Debates
Second & Fourth Sunday: Discourses and Interaction with monks or Guest speakers from different fields
11:30 am: Prayer & Dispersal
In the interactive Session, attempts are made to give higher and nobler tastes to the youth through videos which include interviews and documentaries portraying goals, struggles and accomplishments of great personalities from different walks of life. Following the video, debates or discussions are held where the students express their views and opinions. Occasionally, work-sheets are also given to them for deeper reflection and shaping their thoughts. On alternate Sundays, the resident/visiting monks of the Ramakrishna Order address the youth on various topics. Also, eminent people are invited to share their experiences and visions with the students.
A list of topics discussed during the Youth Forum is given below:
Life of Swami Vivekananda
Select ideals of Swami Vivekananda such as Man-Making, Character Building
along with their implications
Indian Culture and Legacy
Essentials of Student's life
Philosophy of Life (Purusharthas)
Select characters and incidents from Indian epics and scriptures
Work Culture and Work Ethics
Modern thought-currents like globalization, electronic revolution etc.
Nearly 65 students attended the programme on every Sunday during the year 2019-20.
---
Youth Convention
Nagpur Math organizes 1-day or 2-day conventions for youth at various times of the year.
Here are some highlights:
Youth Convention at Chandrapur
On 9th February 2020, a youth convention at Ramakrishna-Vivekananda Sevashrama, Chandrapur was addressed by Swami Jnanagamyananda and others. The topic was 'Swami Vivekananda and Youth.' Total 250 college-students participated in the same. Later a Devotees' Convention and a public meeting was also addressed. It was attended by total 300 devotees and admirers
Youth Convention at Malkapur
On 15th and 16th February 2020, Swami Jnanagamyananda participated as a speaker in a two-day' Youth Convention organized by Ramakrishna-Vivekananda Ashrama at Malkapur in Buldhana district. The topic was 'Swami Vivekananda's message for Youth.' It was attended by total 250 youths.
Youth Convention at Gondia
Ramakrishna Satsanga Mandal, Gondia arranged various value educational activities on 21st and 22nd February 2020. On 21st, Swami Jnanagamyananda interacted with students at three different schools. The total number of students were around 700. Swami Vivekananda's childhood stories were discussed with the students. On 22nd, a parents' convention was organized which was attended by 300 parents.
---
Bal Sanskar Shibir
A Bal Sanskar Shibir is conducted for the age group between 9 to 14.
Various activities are conducted keeping in view the Indian culture traditions, moral and ethical values, physical & intellectual growth and general health awareness in the minds of the children.
Various activities like Suryanamaskar, Yogasana, Vedic Chanting, Bhajans. Inspiring speech on Shivaji Maharaj, Magic Show, Paper Craft, Storytelling, Personality Development, Video presentation on the story of Bhakta Prahlad & Dhruv etc. are also performed. Dramas on Swamiji, Marathi kirtan on Swamiji's life are also conducted.
---
Gadhadhar Abdhudaya Prakalpa
The Gadadhar Abhyudaya Prakalpa (GAP) was launched in October 2010, as a part of the 4-year long 150th Birth Anniversary Celebration of Swami Vivekananda, for the 3-fold development of the needy and backward children – physical, mental and intellectual, and since then, it has been running up till now in different parts of India. The project 'Gadadhar Abhyudaya Prakalpa' (GAP), named after the childhood name of Sri Ramakrishna, i.e., 'Gadadhar', is being implemented for the betterment of the neglected slum and rural children who are often brought from the roadside huts and highly unhygienic garbage-damping areas.
The Primary Aims of GAP:
(a) To instil moral and cultural values in the aforesaid targeted children
(b) To educate them with special coaching on their school subjects
(c) To inculcate a sense of cleanliness and hygiene in them
(d) To nourish them for their physical development
(e) To prepare them to be good citizens of India
---
National Youth Day Celebrations
National youth day is celebrated every year on 12th January, the birth day of Swami Vivekananda in the Schools in rural area every year in which large number of students participate. Various cultural events are organized by the students. Various competitions including Drawing, Elocution, Essay Writing etc. are held every year many schools and prizes are distributed to the students.
Rally : Every year a Rally is organized on 12th January, the National Youth Day in the rural area. In this colourful Rally students from various schools participate along with Bands & Lazims. The rally is converged into a public meeting in which the dignitaries deliver the thought provoking speeches. The speeches and the cultural programmes, are attended by large number of students. To this event a wide coverage is given by the newspaper of Nagpur and a live telecast of the event is also aired.