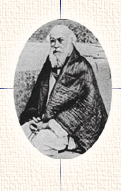 The highlights of his life
(This life-story has been excerpted from the book 'They Lived With God' by Swami Chetanananda, published by the Vedanta Society of St. Lois. To read the entire studied life, and lives of 27 other intimate disciples, please read this book. )
Born in Kolkata on 14 July 1854
After graduating from college, took up the profession of a teacher.
Met Sri Ramakrishna in February 1880.
On his second visit, M. asked Sri Ramakrishna four vital questions of life. For readers of The Gospel of Sri Ramakrishna, it is as though he had asked them on behalf of humanity:
'How may we fix our minds on God?'
'How ought we to live in the world?'
'Is it possible to see God?'
'Under what conditions does one see God'
Recorded each meeting with Sri Ramakrishna, each word, with himself and with the others, initially only for himself, and later compiled it into the Gospel of Sri Ramakrishna – the only book of its kind – the recordings of the direct words of an incarnation.
Sri Ramakrishna had asked him to work for the Divine Mother and he did so for 50 years.
Left his body in full consciousness on 4 June 1932. Breathed his last saying "Mother – Guru Deva – take me up in thy arms.
His relationship with Thakur
Thakur made sure that M. had become efficient, and said to him in January, 1884, 'Now go and live at home. Let them know as if you are their own but be sure in your mind that you are not theirs, nor they are yours.'
M. practiced spiritual disciplines under Sri Ramakrishna's guidance. Once the Master found him meditating on the verandah of the nahabat at Dakshineswar and said: 'Hello! You are here? You will get results very soon. If you practice a little, then someone will come forward to help you … The time is ripe for you. The mother bird does not break the shell of the egg until the right time arrives. These words gave M. tremendous encouragement, and he often quoted them in later years.
Thakur's prayers to the Mother for M's welfare:
"Mother, do grant Your darshan to him again and again. Otherwise, how will attend to both sides? Let him keep both. What is the need of renouncing all at once? Yet may Thy Your wish prevail. You may make him renounce all later on if that is Thy Your will."
"Mother, awaken him. Otherwise how would he awake others? Why have you put him in worldly life? What would have been lost if it had not been so and the same had continued?"
Some aspects of his personality
Though outwardly M. was a householder, inwardly he himself was like a monk, full of intense devotion to God and renunciation of things of the world. Sometimes he would get up at night and, taking this bed roll, would leave his home to sleep on the open verandah. When asked why, he explained, 'The idea of home and family clings to one and does not leave easily'. He led a simple, unostentatious life. The same plain style of clothing that he wore when he first met Sri Ramakrishna he continued to wear all through his life. He had one change of clothes – an extra shirt and an extra wearing cloth for going out.
Once Sri Ramakrishna remarked about M., 'This man has no ego'. Where there is ego there is no God, and where there is God there is no ego. Sri Ramakrishna had effaced M.'s ego forever, and thus the became a perfect instrument in the hands of the Master.
Like Job in the Old Testament, M. took the trials and tribulations of life as a test of his faith in God. He regarded the world as a seething cauldron, but he kept his mind above it. When people would come to him with their difficulties, he would say: 'God created anger, passion, and other troubles in order to mould great souls. An expert boatman can manage his boat in a cyclone. He enjoys navigating in the teeth of tidal waves, but weak people sit inside the boat and cry. There is a kind of bird called the stormy petrel. When a storm begins at sea, the animals on the shore hide in the forest. But the stormy petrel comes out of its nest and flies into the gusty wind with its wings spread. We should follow its example. Be of good cheer. We need strength and should have determination to surmount the troubles and depressions of life. As long as we have human bodies we will have to face these'.
More details of his life story
M., the recorder of The Gospel of Sri Ramakrishna, was one of the householder disciples of Sri Ramakrishna. In later years, people would say: 'If you want to forget the world, go to see M. He knows how remove worldly desires from the mind and instill the thought of God there'. People flocked to him, and he would talk to them only about God. When they would ask, 'Please tell us something about Sri Ramakrishna,' he would quote the conversation between the disciple and the teacher in the Kena Upanishad: The disciple said, "Teach me the Upanishad', and the preceptor replied, 'I have already told you the Upanishad'. By this, M. meant that as he knew only Sri Ramakrishna and nothing else, whatever came through his lips was about him.
Once Sri Ramakrishna asked Subodh, one of his young disciples, to visit M. and talk with him about God. The boy, who was to become one of Sri Ramakrishna's monastic disciples, replied: 'Sri, he lives with his wife and children. What could I learn from him?' Sri Ramakrishna smiled at these words expressing stern renunciation but told Subodh: 'He will not talk about his personal life. He will talk only of what he has learned here'. When Subodh went to see M., he related this conversation to him. M. said humbly" 'It is quite true. I am nobody, but I live beside the ocean, and I keep a few pitchers of that water with me. When a guest comes, I offer that to him. What else am I to talk about?'
M. was the pen name of Mahendra Nath Gupta. He was born in Calcutta on July 14, 1854.
After graduating from college. M. took up the profession of a teacher. He served as headmaster in several schools in Calcutta. In February 1882, when he met Sri Ramakrishna, M. was the headmaster of the Shyambazar Branch of the Vidyasagar School.
One afternoon he went for a walk with his nephew Sidhu, whose father, Ishan Kaviraj, was Sri Ramakrishna's physician. Sidhu took him to the temple garden of Dakshineswar, and there M. met Sri Ramakrishna for the first time. It is interesting that Sidhu, who took M. to Sri Ramakrishna, never visited Sri Ramakrishna again.
They [M. and Sidhu] arrived at the main gate at dusk and went straight to Sri Ramakrishna's room. And there they found him seated on a wooden couch, facing the east. With a smile on his face, he was talking of God. The room was full of people, all seated on the floor, drinking in his words in deep silence. M. stood there speechless and looked on. It was as if he were standing where all the holy places met and as if Shukadeva himself were speaking the word of God, or as if Sri Chaitanya were singing the name and glories of the Lord in Puri… M. looked around him with wonder and said to himself: 'What a beautiful place! What a charming man! How beautiful his words are!'…
On this first day, M. spoke very little with Sri Ramakrishna. He later said to the devotees: 'After meeting Sri Ramakrishna, I completely forgot my past. His towering personality and spiritual magnetism erased my sad memories'.
On his second visit, M. was scolded by Sri Ramakrishna and, as he described, his ego was crushed. With a humility born of greatness, he immediately perceived the truth in Sri Ramakrishna's words and accepted it. It is as if M.'s belief in intellectual knowledge was overpowered by Sri Ramakrishna's spiritual wisdom once and for all. Generally people prefer to hide their weaknesses, but M. was so sincere that he meticulously recorded all the scoldings he received from the Master, as well as his reactions to them. M.'s record runs: 'Thus rebuked, M. sat speechless. His pride had received a blow. After a few minutes Sri Ramakrishna looked at him kindly and said affectionately: "You see, you have certain good signs. I know them by looking at a person's forehead, his eyes, and so"
On this occasion M. asked Sri Ramakrishna four vital questions of life. For readers of The Gospel of Sri Ramakrishna, it is as though he had asked them on behalf of humanity: (1) 'How may we fix our minds on God?' (2) 'How ought we to live in the world?' (3) "Is it possible to see God?' (4) "Under what conditions does one see God?'
After he had been visiting the Master for some time, M. felt the urge to renounce family life and become a monk. But Sri Ramakrishna had set out a different path for him and discouraged him from this idea, saying" 'You are well established in God already. Is it good to give up all?'
One evening when M. was alone with him at Dakshineswar, Sri Ramakrishna said in an ecstatic mood: 'Let nobody think that if he does not do Mother's work, it would remain undone. The Mother can turn even a straw into a teacher'. This erased any doubts left in M's mind. He understood that he should surrender completely to the will of the Master. He remained living as a hidden yogi in his family setting. He practiced inner sannyasa (renunciation), without being indifferent to his duties and responsibilities. He was successful as a teacher, yet he had the calmness of a yogi. He was very humble and would serve monks and devotees with deep sincerity. Thus he combined the virtues of a householder with the spiritual intensity of a monk.
Undoubtedly M. received many blessings from the Master, but his personal life was full of trials and tribulations. He was worried about his wife, whose mind was a little unbalanced. One day he spoke of this to the Master: 'What should one do if one's wife says: "You are neglecting me. I shall commit suicide."?' Sri Ramakrishna replied: 'Give up such a wife if she proves an obstacle in the way of spiritual life .. The wife that hampers her husband's spiritual life is an ungodly wife'. This stern answer put M. into a serious mood. The other devotees who were present remained silent. Sri Ramakrishna understood M.'s predicament, and after a little while he whispered in M.'s ear: 'But if a man has sincere love for God, then all come under his control – the king, wicked persons, and his wife. Sincere love of God on the husband's part may eventually help the wife to lead a spiritual life'. These words of hope soothed M.'s worried mind.
Sri Ramakrishna taught that religion is not a matter of preaching, but of transforming oneself and thus inspiring others. On M.'s second visit, the Master had scolded him for his criticism of those who worship images. 'That's the one hobby of you Calcutta people – giving lectures and bringing others to the light! Nobody ever stops to consider how to get the light himself. Who are you to teach others? He who is the Lord of the Universe will teach everyone'. On another occasion, the Master said to M., 'The less people know about your thoughts of God, the better for you'.
Sri Ramakrishna used to present religion according to his own experience and in a tangible way. Once M. asked him what meditation on the formless God was like. The Master told him: 'You see, one must practice spiritual discipline to understand this correctly. Suppose there are treasures in a room. If you want to see them and lay hold of them, you must take the trouble to get the key and unlock the door. After that you must take the treasures out. But suppose the room is locked, and standing outside the door you say to yourself: "Here I have opened the door. Now I have broken the lock of the chest. Now I have taken out the treasure". Such brooding near the door will not enable you to achieve anything. You must practice discipline'.
Once Sri Ramakrishna remarked about M., 'This man has no ego.' Where there is ego there is no God, and where there is God there is no ego. Sri Ramakrishna had effaced M.'s ego forever, and thus he became a perfect instrument in the hands of the Master.
Once a devotee said to M.: 'You are very fortunate. You have seen and heard Sri Ramakrishna. You have even touched him and served him'. M. replied: 'Don't think in that way. The Master said that all his wealth and power will go to his children. Discrimination, renunciation, knowledge, devotion, and love are his wealth. These good qualities will come to the soul who thinks of him'.
On another occasion, M. Said to a devotee: 'Do you know what we received from the Master? Burning faith.'
Sri Ramakrishna had asked M. to work for the Divine Mother, and he did so for fifty years. Even though his health was delicate, he never gave up working. Swami Nityatmananda wrote of a touching incident in his memories: 'I was responsible for the printing of the Kathamrita [the Bengali Gospel] while it was at the printer's, but I had many things to do and was unable to finish the proofreading in time. At one o'clock at night I saw a light in M.'s room. I entered and found he was reading the proofs of the Gospel by a kerosene lantern. He was not well at all, and moreover, as he was working at an odd hour, his eyes were watering. I was pained at this. I lovingly chastised him and he replied with affection: "People are finding peace by reading this book, the Master's immortal message. It is inevitable that the body will meet its end, so it is better that it is used for spreading peace to others. We are in the world and have utterly experienced how much pains are there, yet I have forgotten that pain through The Gospel of Sri Ramakrishna. I am hurrying so that the book may come out soon". Indeed, M. died while the last portion of the last volume was at the press. He was born to write and teach The Gospel of Sri Ramakrishna'.
On June 4, 1932, M. left his body in full consciousness. He breathed his last saying this prayer, 'Mother – Guru Deva – take me up in thy arms'. The Mother took her child up in her arms and the curtain fell.
When M. would talk about Sri Ramakrishna, he would have no body-consciousness. It seemed as though his soul was trying its utmost to break out of its cage of name and form, trying to encompass the Infinite. His love and devotion for Sri Ramakrishna was so great it would spread to those who heard him speak. One day in an inspired mood, M. was trying to describe his Master. He said:
'The Master was like a five-year-old body always running to meet his Mother.
'The Master was like a beautiful flower whose nature was to bloom and spread its fragrance.
'The Master was like a bonfire from which other lamps were lighted.
The Master was like a celestial vina always absorbed in singing the glory of the Divine Mother.
'The Master was like a big fish joyfully swimming in calm, clear, blue waters, the Ocean of Satchidananda.
'The Master was like a bird which had lost its nest in a storm and then, perched on the threshold of the Infinite, was joyfully moving between the two realms, singing the glory of the Infinite'.
After trying to describe the Master in many ways, he said that all these similes were inadequate. The Infinite cannot be expressed in words.
M. offered his life at the feed of his guru and attained eternal life, and through his great life's work, The Gospel of Sri Ramakrishna, he has been immortalized