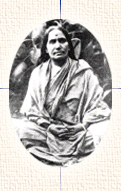 The highlights of her life
(This life-story has been excerpted from the book 'They Lived With God' by Swami Chetanananda, published by the Vedanta Society of St. Lois. To read the entire studied life, and lives of 27 other intimate disciples, please read this book. )
Born in 1857 – the fourth child of seven children.
Left home at the age of nine to follow a holy man who had blessed her saying "May you attain devotion to Krishna", and was initiated by him.
Ran away from re relatives while on a pilgrimage at the age of 18 (1857), and joined a group of monks and nuns.
Travelled to religious places and practiced great austerities before meeting Sri Ramakrishna.
Challenged Balaram about Sri Ramakrishna that "I have seen so many monks in my life, and I have no desire to see another. If your holy man has real power, then let him pull me'
Met Sri Ramakrishna in 1880. Not just metaphorically, but he 'actually' pulled at her heart! (Read detailed life story for details)
Founded Sri Sri Saradeshwari Ashrama in 1894 to fulfill the Master's mission as had been instructed by him.
28 February 1938, she told her assistant, "The Master is pulling the string"), and passed away on 1 March 1938
Her relationship with Thakur and Ma
Sri Ramakrishna had a very high opinion of her and once said, "Gauri is a perfected soul – a gopi of Vrindavan
One day, after bathing in the Ganga, Gauri-ma went to Dakshineswar with two pieces of cloth and her inseparable companion, Lord Vishnu. As soon as she entered the Master's room he said, 'I was thinking of you'. Gauri-ma told him about herself and about her recent vision of the Master's feet on the altar. 'Father', she said, 'I did not know that you were hidden here'. The Master smiled and said, 'If you had met me earlier, would you have practiced so much austerity?'
Sri Ramakrishna wanted to fulfill a special mission through Gauri-ma. He realized that the women of the society were terribly neglected, especially in the area of education, and it was his wish that Gauri-ma should work among them. One day he said to her: 'The women of Jadu Mallik's family have been wanting to see you. Please visit them'. But Gauri-ma replied; 'That is your business, Father! Why do you praise me so much to others?'
On another occasion Gauri-ma was picking flowers near the nahabat when the Master came there with a pot of water. Holding a branch of the bakul tree with one hand, he began pouring water with the other. Then he said, 'Gauri, let me pour water and you knead the mud'. Surprised, Gauri-ma answered: 'There is no clay here. How can I knead the mud? This place is full of stone chips'. The Master smiled and said: 'My goodness! What I meant and what you have understood! The condition of women in this country is very poor and painful. You will have to work for them'. Gauri-ma did not like the idea, however, 'It is hard for me to get along with worldly people', she told him. 'I don't care for all the hustle and bustle. Give me a few girls, and I shall take them to the Himalayas and mould their character'. But the Master shook his head and said: 'No, no. You will have to work in the city. You have practiced enough spiritual disciplines. Now you should serve the women with your spiritual energy'."
Some aspects of her personality
Gauri-ma was a brave woman herself, and she wanted to see this quality in other women. Some women devotees knew that she sometimes dressed as a wandering monk, in a long robe and turban, so one day, out of fun, they asked to see her in those clothes. Gauri-ma warned them that they would be frightened. Early one afternoon, Gauri-ma put on her robe and turban and, with a bamboo staff in her hand, appeared before those women when the men were away at work. Seeing a stranger in the inner apartment, the women screamed. Gauri-ma then disclosed her identity and scolded them: 'What is this? Why are you so afraid of a man? When you saw a stranger enter the inner apartment, why didn't you throw something at him instead of screaming? Isn't it possible for three women to push out one man? It's not enough for women to be good housewives. They must be strong and learn to protect themselves'.
There is a saying, 'An organization succeeds, not because it is big, or because it is long established, but because there are people in it who live it, sleep it, dream it, and build future plans for it'. Gauri-ma practiced this in her life. Following what the Master had asked her to do, she became one of the pioneers of education for women of modern India. She founded a beautiful educational institution according to the ancient ideals of India, and she trained the women of the ashrama, but all the while she considered herself a 'maidservant of the ashrama'. Because she led such a pure, dedicated, and unostentatious life herself, she was a wonderful exemplar for her students. She used to tell them, 'Remember, the beauty of a woman is not enhanced through clothes and cosmetics, but through physical and mental purity'.
Gauri-ma's twenty years to travel gave her firsthand knowledge of the Indian people, especially of women. At last she felt an inner urge to fulfill the mission which Sri Ramakrishna had designated for her. In 1894 she founded the Sri Sri Saradeshwari Ashrama for women on the bank of the Ganga in Barrackpore, fourteen miles north of Calcutta. There were twenty-five members of the ashrama, and Gauri-ma trained them, following the ancient tradition of India. Gauri-ma would sometimes show a rough exterior, but her heart was full of love and tenderness. Once a wealthy drunkard came to pay his respects to her, but she bluntly told him, 'I don't allow drunkards to touch my feet'. The man was hurt and said, 'You are the mother of everyone, so why are you reluctant to be the mother of a drunkard?' 'All right', answered Gauri-ma, 'if you give up drinking, I shall be your mother'. 'Then bless me, Mother', said the drunkard. He bowed down to her and left. Later, Gauri-ma found out that he had actually given up drinking, changed his life-style, and become a devotee of God.
More details of her life story
One day a holy man was on his way to visit the Divine Mother at Kalighat, in South Calcutta, when he was stopped by an old woman who wanted to pay her respects to him. Gauri-ma, who was then nine years old, was playing nearby with some other girls. Seeing that holy man she felt an irresistible attraction and rushed over to him and bowed down. The holy man asked: 'Your friends are playing and you have come to me. Why?' Gauri-ma replied: 'Oh, they love to play that way, but I don't like it. I felt an attraction in my heart, so I came to you'. The holy man touched the little girl's head and blessed her, saying, 'May you attain devotion to Krishna'.
Later…without saying anything to her parents, Gauri-ma left home and through inquiry found the way there (to where the holy man lived). The holy man was meditating inside his cottage when she arrived, so she waited. The next day… the holy man asked Gauri-ma to bathe in the Ganga, and when she returned he initiated her. Meanwhile, her absence from home had been discovered and there was a terrible commotion. Her brother found out… (and) he immediately went to bring her back. When he arrived the holy man told him: 'Please don't scold her. She is just a little girl, It is hard to keep a yellow bird in a cage'. Gauri-ma then returned home with the consent of her guru.
Gauri-ma was born in 1857 and was the fourth child of seven children.
Observing her dispassion for the world, her relatives tried to arrange her marriage when she was ten years old. But Gauri-ma boldly rejected the idea, saying, 'I shall marry that person who never dies'. She was happy with her beloved husband, Lord Vishnu. When Gauri-ma became thirteen, however, a bridegroom was selected against her will, and a marriage date was set. Gauri-ma was extremely upset. One day she became so angry that she started throwing away the things which had been collected for the wedding ceremony. Then she entered her room with her image of Vishnu and a picture of Chaitanya and locked the door from inside. Most of her relatives tried to console her and convince her to marry, but she was adamant. That night her mother requested her to open the door and let her in, and Gauri-ma obeyed. Seeing the agony and pain of her daughter, Giribala said: 'My child, since you have real dispassion for the world, I shall not force you to marry. I hereby dedicate you to God. May he protect you from all dangers.
In 1857, when she was eighteen years old, Gauri-ma left with an uncle, aunt, and some neighbours for a pilgrimage. Here, on the third day of their stay, she disappeared into the huge crowd of pilgrims. Her relatives and neighbours spent three days searching for her in vain and then returned to Calcutta. Giribala was grief-stricken at the news and fell ill.
After running away from her relatives, Gauri-ma had hidden herself in a bush near their tent. From there she could watch their movements. As soon as she saw them leave she joined a group of monks and nuns who came from the Himalayan regions. The group visited several holy places, traveling by train or on foot, and finally reached Hardwar after three months.
During her itinerant days, Gauri-ma practiced severe austerities, such as fasting, observing silence, meditating, and studying the scriptures. Sometimes she repeated her mantram from sunrise to sunset. In 1880 Gauri-ma became acquainted with Radhamohan Basu. In 1882 Gauri-ma accepted an invitation to visit his Calcutta home, and it was there that she met his son, Balaram Basu, who was a great devotee of Sri Ramakrishna.
One day, soon after she arrived, Balaram said to Gauri-ma: 'Sister, let us go to visit Sri Ramakrishna at Dakshineswar. You have never seen such a wonderful holy man. He goes into Samadhi every now and then. If you do not see him, you will certainly miss something in your life'. Gauri-ma smiled and replied: 'I have seen many monks in my life, and I have no desire to see another. If your holy man has real power, then let him pull me'.
The pull came at last in a mysterious way. One morning Gauri-ma began her daily ritual to the deity. …she saw two live human feet there, without a human body. At first she thought that it was an optical illusion, but observing carefully, again and again, she saw only those two human feet. Gauri-ma was frightened. The hair on her body stood on end, and her hands started trembling so much that she dropped the image. She then lost consciousness and fell to the floor. Balaram came there and realized that Gauri-ma was in Samadhi. Some time later Gauri-ma regained a little outward consciousness and pointed to her heart. She felt that somebody had tied a string to her heart and was pulling it. She passed the whole day and night in a semi-conscious state.
The next morning, without telling anyone, Gauri-ma tried to leave, but the gatekeeper stopped her. Just then Balaram arrived and asked her: 'Where do you want to go? Sister, would you like to meet the Master in Dakshineswar?' Although Gauri-ma did not answer, Balaram understood that her silence meant assent. He immediately ordered the coachman to get the carriage ready, and they left for Dakshineswar with Balaram's wife and some other women. When they arrived, they found Sri Ramakrishna seated in his room, winding thread around a stick and singing:
O Mother, for Yashoda Thou wouldst dance,
When she called Thee her precious 'Blue Jewel';
Where hast Thou hidden that lovely form,
O terrible Shyama?
Dance that way once for me, O Mother! ….
Immediately after their, arrival, Sri Ramakrishna finished winding the thread and cordially received them. Gauri-ma understood that Sri Ramakrishna had attracted her heart, which he had indicated by the winding of the thread. Then when she bowed down to the Master, she saw the same two human feet that she had seen the previous day on the altar. She was overwhelmed with joy and astonishment. Sri Ramakrishna just smiled. He asked Balaram about Gauri-ma, and then he talked to them about spiritual life. While seeing them off, the Master said to Gauri-ma, 'Come again'.
Sri Ramakrishna then took Gauri-ma to the nahabat and introduced her to Holy Mother, saying: 'Hello, you were looking for a companion. Here is one for you'. Sri Ramakrishna had a very high opinion of her and once said, 'Gauri is a perfect soul – a gopi of Vrindaban'.
Sri Ramakrishna wanted to fulfill a special mission through Gauri-ma. He realized that the women of the society were terribly neglected, especially in the area of education, and it was his wish that Gauri-ma should work among them.
(One day he said to her) 'The condition of women in this country is very poor and painful. You will have to work for them'. Gauri-ma did not like the idea, however, 'It is hard for me to get along with worldly people', she told him. 'I don't care for all the hustle and bustle. Give me a few girls, and I shall take them to the Himalayas and mould their character'. But the Master shook his head and said: 'No, no. You will have to work in the city. You have practiced enough spiritual disciplines. Now you should serve the women with your spiritual energy'.
On Monday, February 28, 1938, the day of Shiva-ratri (the spring festival of Lord Shiva), Gauri-ma announced, 'The Master is pulling the string'. In the afternoon she began to prepare herself for her final departure and asked her students to help her get dressed. She put on a silk sari and shawl, and a flower garland was placed around her neck. She indicated that her chariot was coming. That night she talked to her assistant, Durga Devi, about the forthcoming festival of the Master and advised her to follow the tradition.
The next morning, Tuesday, March 1, Gauri-ma handed over her beloved image of Vishnu to Durga Devi, and then she felt relieved. She was quite cheerful the whole day and talked frequently about the Master. That evening she uttered aloud three times, 'Guru Sri Ramakrishna', and the started repeating her mantram silently. At 8:15 Gauri-ma passed away.