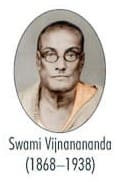 An introduction | The life story | His teachings
An introduction
Monastic Name: Swami Vijnananda
Pre-Monastic Name: Hari Prasanna Chatopadhyay
October 1868
Born on 30 October 1868 in Etawah, Uttar Pradesh. His father worked for the British government and had a transferable job. Therefore he and his 5 siblings lived with their mother at Varanasi. In 1879, they moved to their ancestral home at Belgharia near Dakshineswar.
Around 1875
Met Sri Ramakrishna for the first time at the age of 7 when he was visiting a devotees house in Belgharia. He later saw him in samadhi once at another devotees house, and in November 1883 went from college with a friend – Sharat to visit him. This time his mother scolded him for visiting the 'deranged brahmin'. He visited the master very often after this.
1887
Graduated from Patna College and went to Poona College of science to study civil engineering.
1892
Graduated in 1892 and took up the job of district engineer at Gazipur in Uttar Pradesh (UP). He worked on various projects in UP, sent Rs.60/- every month to the Ramakrishna Monastery and kept close contact with his brother disciples who would come and stay with him when they were sick, and he served them with loving care.
1896
Joined the Ramakrishan Monastery at Alambazar after becoming disgusted with repeated attempts of his uncle to get him married. (He had agreed to work only until his family was financially secure, since his father had expired when he was very young). Here he lived humbly and spent most of his time in japam and meditation.
1897
Went on the western and northern (Indian) travels with Swami Vivekananda (Swamiji) after his return from America. During the travels Swamiji discussed his plans for the Belur Temple with Hari Prasanna, who later drew a sketch of the Ramakrishna Temple using Swamiji's ideas as a guide, and got them approved by Swamiji.
February 1898 onwards
Single handedly drew up the site plan and building plans for Belur, prepared estimates, as well as supervised the construction. Vivekananda consecrated the Ramakrishna Math on 9th December 1898 at Belur after the construction was completed. (the temple as we see it today, was not yet built)
9 May 1899
Took formal sannayasa and monastic vows with the traditional Viraja Homa ceremony, in Sri Ramakrishna's shrine. Vivekananda told him: "Do as we have done. Take your sanyasa directly from the Master".
Fall of 1900
After the construction of the monastery at Belur, Swamiji advised him to start a centre at Allahabad. The Brahmavadin Club there rented two rooms on the upper floor of a two-storey building and he set up the centre there. He spent his time on Japa, meditation, cooking, study in the shrine room. Conducted a vesper service in the evening and he gave classes on the Gita to the club members. In Allahabad, he did not make any effort to preach the teachings of Sri Ramakrishna. In fact, preaching was against his nature. He led a life according to the ideals of Sri Ramakrishna and other learnt from it.
1904
Translated Sri Ramakrishna's Life and Teachings from Bengali into Hindi and published it as Paramahamsa-Charitra. During his 38 year stay at Allahabad he published a number of important books. Towards the end of his life, he was translating Valmiki's Ramayana from Sanskrit into English, but this was left unfinished. He said about his experience: "When I sit down to translate the Ramayana, I forget the world. I see Rama, Lakshmana, Sita and Mahavirji in front of me."
1910
Bought a house and vacant plot in Allahabad, turned the house into the Ramakrishna Monastery and built another house for a charitable homeopathic dispensary.
1909 onwards
As he was an engineer, he was consulted for the construction of all construction of the Ramakrishna Mission's hospitals or temples. For this he travelled to many centres, and also went on pilgrimages to nearby places. In the later part of his life, he visited Kanchipuram, Madurai, and other places in the south, Chittrakut, Sri, Lanka, Delhi, Lahore, Shillong, Bhubaneswar, and many other places in India and also Burma.
1934
Became the Vice-President of the Ramakrishna Ramakrishna Math and Mission worldwide, and the President in 1937 after the passing away of Swami Akhandananda. On Friday, 14 January 1938, he consecrated the Ramakrishna Temple at Belur.
25 April 1938
Face beaming with joy, he passed away at Allahabad.
On the day of the consecration of the Ramakrishna Temple, he got up early, put on a new ochre cloth, and sitting quietly in his chair waiting for the auspicious moment, he said to his attendant: "When I install the Master in the new temple, I shall say to Swamiji: 'Your consecrated deity has now been installed in the temple you planned. You said that you would watch from high. Please see now that the Master is seated in the new temple.'"
After the consecration he told his attendant "… I vividly saw Swamiji, Rakhal Maharaj, Mahapurush Maharaj, Sharat Maharaj, Hari Maharaj, Gangadhar Maharaj, and others standing in the southwest corner watching the consecration ceremony." After a while the swami said: "Now my work is over. Today I am relieved of the responsibility that Swamiji entrusted to me."
Compiled from various sources
The life story
Swami Vijnanananda before he took orders was known by the name of Hariprasanna Chattopadhyaya.
It was in the year 1883 that Hariprasanna, then a student of the St. Xavier's College, went to Dakshineshwar with his fellow students Sharat (Swami Saradananda) and Barada Pal. The Master, as was his wont, showed great love and kindness towards Hariprasanna, which bound him indissolubly to him. Young though Hariprasanna was, it did not take him much time to find out that here was a man who was extraordinary in every sense of the word, and he was as much captivated by his words of wisdom as he was drawn by his charming naivety. As the Master soon left for Mani Mallik's house in Calcutta, the three friends followed him there.
Naturally, Hariprasanna returned home very late that night. His mother had been waiting anxiously for him, and when she learnt that he had been to that Brahmin of Dakshineshwar, who was then considered crazy by a section of people, the good lady said in an angry tone, "So you had been to that mad Brahmin who has deranged the brains of no less than three hundred and fifty young men?" In days, after recounting the event, he used to comment, "Derangement of brain indeed! The brain is still deranged." And he would add, "Had I not been caught in the influence of that mad man, who knows where I should have been now – wallowing in the welter of the world?"
Sri Ramakrishna's love for his young disciples or would be apostles was immense. If any of them did not go to Dakshineshwar for a considerable time, the Master would send for him or inquire about him through a messenger. At one time Hariprasanna did not visit Dakshineshwar for a rather long time, and the Master sent word to him through Sharat to come and see him. When Hariprasanna arrived at Dakshineshwar and met the Master, the latter, in an aggrieved tone, asked, "Why is it that you don't care to come here? It is difficult to get you here even after sending a messenger!" The young disciple very frankly said, "I don't always get the mood to come, so I don't." At this the Master simply smiled and said, "You practice a little meditation, I believe?" "I do try to meditate, but how to have good meditation? I don't have any real meditation at all," replied Hariprasanna.
The answer astonished the Master, who remained quiet for a while. Hariprasanna was looking at his face eagerly awaiting the words that would drop from his lips. As he was doing this, the face of the Master changed he looked grave and said, "All right, just go to the Panchavati now and try to mediate." Then he beckoned him to come nearer and wrote something on his tongue with his finger and sent him to the Panchavati: Hariprasanna wended his way towards the Panchavati, but after the Master had touched him, he was in a state of intoxication and could hardly walk. As he sat for meditation at the Panchavati, he became for a long time oblivious of his surroundings and of the outside world. When Hariprasanna returned to his senses, he found the Master seated by his side smiling and gently passing his hands over his body.
After a while the Master broke the silence and asked, "What? Did you have meditation today?" Yes, today I had the experience of a good meditation," said Hariprasanna in astonishment. "Henceforward you will find that you will have good meditation every day", the Master assured him further. Sri Ramakrishna then went to his room accompanied by Hariprasanna to whom he very affectionately gave many instructions about the intricacies of spiritual life. Swami Vijnanananda would say afterwards, I amazed to see his love for us that day. Repeatedly did this occur to my mind: 'Indeed, how much does he think for us!' I had no idea of this. There can be no companion with his love.
After taking his degree of L.C.E. he joined the Government service and rose in the course of a few years to the position of a District Engineer. By that time the monastery at Baranagore had been founded, and the monastic disciples of the Master often became his guests as different places. The flame of renunciation, however, that had been kindled in him by the Master was burning within him, and he found it impossible to remain in the world for a long time.
In the year 1896, shortly before Swami Vivekananda returned for the first time from his triumphant mission in the West, Hariprasanna joined the Brotherhood at Alambazar.
Most of the time he would spend in meditation and study, seeking no company, but not refusing any help to persons who sought it. Thus through the silent influence of his example as well as through personal contact, he changed the course of many lives. It was only in the evening that outsiders were generally allowed to see him. For them he would sometimes hold scriptural classes or would otherwise solve their problems through informal talks.
The Swami was always loath to talk much. Specially with regard to spiritual matters he would dismiss the whole problem with as few words as possible – sometimes in fun and sometimes in a serious mood. But he had a wonderful capacity to satisfy the inquiries even with his short conversation. To persons who would come with any big philosophical problem, he would say, "Just follow the maxims which you have read in the copy books – namely, "Always speak the truth", "To take a thing without the consent of its owner is to steal," and so on. It would be very difficult to draw him out specially on spiritual things, but when he was in a mood to talk, he would at once change the atmosphere and supply spiritual food to the listeners which would give them sustenance for many years to come, if not for their whole lives.
With reference to him, Swami Brahmananda who had great spiritual insight would say, "It is very difficult to know him. He always keeps himself hidden. But he is a knower of Brahman. He has known the Self and is thus satisfied." He was eager to send those boys who had special spiritual aptitude to Allahabad to grow under the inspiration of Swami Vijnanananda.
Swami Vijnanananda was also a great scholar. He was a voracious reader and had varied intellectual interests.
Swami Vijnanananda loved retirement. He was, therefore, not actively engaged in the main work of the Ramakrishna Mission. But whenever his help was necessary he would ungrudgingly give it. His engineering knowledge was particularly useful in this respect. He supervised the construction of some buildings of the Ramakrishna Mission Home of Service, Varanasi, as also of the Swami Vivekananda Temple at the Belur Math. Besides he helped with valuable advice in regard to the construction of other buildings.
On account of his humility and love of retirement, he refused for years on end to be a trustee of the Ramakrishna Math. But when in 1934 after the passing away of Swami Shivananda, the then President of the Ramakrishna Order, the necessity arose for his becoming a trustee, he could not decline it any longer. He became Vice-President of the Order that very year, and on the demise of Swami Akhandananda, the next President, he became the President of the Ramakrishna Math and Mission in March 1937. Feeling in his heart of hearts the urge to initiate people – weary pilgrims in the wilderness of life – he broke towards the end of his life, his lifelong practice of not initiating anybody, although he was pre-eminently qualified to be a Guru. This sense of duty marked him throughout. Through his grace hundreds of men and women were placed on the path of spiritual progress. During the last few years of his life he travelled extensively and visited many centres of the Ramakrishna Order including Colombo and Rangoon. Everywhere his presence was the occasion of spiritual awakening to innumerable persons.
From the time when the construction of the Sri Ramakrishna Temple at Belur began, he was anxiously watching its completion in order that he might install his great Master there as early as possible. In view of his failing health, it was decided to have the installation ceremony done just after the completion of the main shrine. On 14th January 1938, Swami Vijnanananda performed the dedication of the temple and the consecration of the marble image of Sri Ramakrishna amidst imposing rites – a function which was witnessed by about fifty thousand devotees and spectators. Having done this, he felt that the great task of his life was finished, and he got ready to join his beloved Master. He paid only one more visit to Belur, and that was only on the occasion of the Master's next birthday. He looked very much emaciated, and those who saw him then were apprehensive of the approaching end. Still he initiated hundreds of aspirants, lay and monastic and answered their queries.
Compiled and Edited by Swami Gambhirananada
The Apostles of Sri Ramakrishna
Advaita Ashrama; Mayavati; June 1995
His teachings
One should not ask for anything from God, but remain satisfied with whatever. He is pleased to give. If you ask God for anything, He will give you a gift which is like a double-edged sword. Real welfare lies in using things properly; wrong use of things brings misfortune.
You are the complete master of your mind, and you can shape it as you like. When the mind is completely under your control, it will have nothing to exist on, except noble thoughts. Just as we know that pure and wholesome food is necessary for our physical existence – impure and contaminated food will only injure the body – so it is necessary to nourish the mind with noble thoughts and high ideals, refusing to provide it with evil thoughts and bad associations, which are like poison to the mind.
What the westerners call fate or destiny, we characterize as the result of our actions in previous births. The river of time is flowing on. Will it only do to be drifting with the current? You have got to cross the river, and you can get across only when you swim with the help of that current. Never give way to despair and dejection. Without perseverance nothing great can be achieved. The aim of life is to realize God, and the task is not easy. You must steer clear of laziness and insincerity. Even when you are nearly across, you have to persist in your efforts and go on swimming or else you will be sucked in by the currents and get drowned. If you put your whole heart into it, God will give you immense, infinite strength, and you will reach dry land. What is true of personal life is also true of nation. Whatever situation one may be in, one can, to some degree, serve the motherland, serve the common people, and above all serve God. Always have the good of the universe at heart and let this become a part of your daily prayer.
Selfishness has got the whole nation in its grip. But, again, without the pursuit of self-interest, the world would be at a standstill. Self-interest, however, should not be conceived in narrow and limited terms. Living for the little self is but death. But he who sacrifices his life for the good of the many is living truly.
Compiled and Edited by Swami Gambhirananada
The Apostles of Sri Ramakrishna
Advaita Ashrama; Mayavati; June 1995