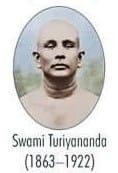 An introduction | The life story | His teachings
An introduction
Monastic Name: Swami Turiyananda
Pre-Monastic Name: Harinath Chattopadhyaya?
January 1863
Born on 3rd January to Chandranath Chattopadhyaya an orthodox Brahmin who worked for a British firm in Kolkata, and had the power to foretell the future. His mother Prasannamayi died from a rabid jackal's bite when he was three years old.
1876-77
Met Sri Ramakrishna for the first time at the age of 13 or 14 at Dinanath Basu's house in Kolkata.
Probably in 1880
Went to Dakshineswar and visited the Master again, and gradually became familiar with Sri Ramakrishna.
January 1887
Took final monastic vows with other brother disciples by performing the traditional viraja homa in front of the Master's picture.
1889 – 1897
Left the Baranagore Monastery and went to Rishikesh, Gangotri, and other places in the Himalayas, and settled in Rajpur on the Mussoorie hills to practise Sadhana. He also travelled with his brother disciples to various places in the country.
June 1899
Left for England and America with Swami Vivekananda and Sister Nivedita. He gave lectures on Vedanta on Swamiji's command. He was a living example of Vedanta to all.
July 1900
On the train from New York to California, just before Swamiji got off the train at Detroit, he asked Swamiji about his future work, and was told "Go and establish the ashrama in California. Hoist the flag of Vedanta there. From this moment, destroy even the memory of India. Mother will do the rest". He then established the "Shanti Ashrama"
At the 'Shanti Ashrama'
He freely distributed the greatest spiritual treasures of Vedanta to the American students. He lived a life and trained enabled others to live the life as well.
January 1901 (for a few months)
Went to San Francisco for medical care as his body was keeping ill. There also he would conduct meditation class everyday, and lectures on the Gita and Raja Yoga.
Late 1901
Went back to Shanti Ashrama for 5 months, and then due to ill health, left for India in May 1902 (after a period of 2 years 9 months stay in the US). He handed the Ashrama to one of his disciples – Gurudas. His only desire at this time was to see Swamiji (Swami Vivekananda)
July 1902
During his voyage, he learnt from a passenger's newspaper that Swamiji had passed away, and changed all plans for work. Now he wanted to immerse his life in meditation and austerity.
October 1902
Went to live at Vrindavan like a traditional monk, and was later (1903) joined by Swami Brahmananda. There also he gave classes on the Bhagvata.
1905 – 1910
Travelled to Devgiri, Kurukshetra, Nangol, Kankhal, Almora and Puri. He was joined by Brahmachari Gurudas from America in 1907. During this period, he practised severe austerities neglecting his body completely, and thus also suffering tremendous ill health.
1910 – 1911
Went to Belur Math and stayed there for a short while. He then proceeded to Puri where Swami Brhmananda was already living.
1912 – 1917
Travelled to Dehra Dun, Rishikesh, Varanasi, Kankhal, and Almora. In 1917 he came back to Kolkata, and underwent several surgeries.
February 1919
Left for Varanasi and lived there till the end of his life for 3½ years.
21 July 1922
Passed away at 6.45 pm, at Varanasi.
Turiyananda was indeed an awakener of souls. His fiery words to his students were: "Clench your fists and say: I will conquer! Now or never – make this your motto, even in this life I must see God. That is the only way. Never postpone."
Compiled from various sources
The life story
Each disciple of Sri Ramakrishna was great in his own way. Each had superb qualities which dazzled those who witnessed them. Swami Turiyananda was a blazing fire of renunciation. To be near him was to feel the warmth of his highly developed spiritual personality. From his very boyhood till the end, his life was a great fight: in the beginning it was a fight for his own spiritual evolution; during the later days, to make those who came within the orbit of his influence better. He was as if ceaselessly alert and vigilant so that every thing in and around him might be the expression of the highest spirituality. Yet it meant no struggle to him; it became so very natural with him. His early life was modelled on the teachings of Saankaracharya, and those who witnessed him in later days could witness in him a living example of a Jivanmukta (free while still in the body).
Swami Vivekananda once, in his characteristic way of presenting a point of view in the most emphatic and impressive manner, even belittling himself and his own achievements, said to his American disciples, "In me you have seen the expression of Kshatriya power; I am going to send to you one who is the embodiment of Brahminical qualities, who represents what a Brahmin or the highest spiritual evolution of man is." And he sent Swami Turiyananda.
Swami Turiyananda was born in a Brahmin family in North Calcutta on 3 January 1863. His family name was Harinath Chattopadhyaya.
He was a master of his senses, and once he sat down to meditate, external troubles could not reach the inner sanctuary of his mind. He spoke of this later to a monk of the Ramakrishna Order. "When I sit down for meditation, I lock the entrances to my mind, and after that nothing external can reach there. When I unlock them, then only can the mind cognise things outside." On another occasion to a young Sanyasin he remarked, "Write in big characters on the doors of your mind 'No Admission' and no outside disturbance will trouble you during meditation. It is because you allow outside things to disturb you that they have access to your mind."
It was at San Francisco that Swamiji had told the students, "I have only talked, but I shall send you one of my brethren who will show you how to live what I have taught." The students eagerly longed for the coming of the Swami about whom Swami Vivekananda spoke so highly and naturally they expected much of him. Their expectation was more than fulfilled, for in Swami Turiyananda they found a living embodiment of Vedanta.
At this place Swami Turiyananda lived in one of his most intense spiritual moods – day and night talking only of God and the Divine Mother and allowing no secular thought to disturb the atmosphere of the Ashrama. The minds of the students were constantly kept at a high pitch through classes in meditation, the study of scriptures, and so on. With the Swami there was no special time for instruction. He was always in such an exalted mood that to any topic he would spontaneously, and unconsciously as it were, give a spiritual turn.
There was no set of definite rules for the Ashrama, but the very life of the Swami was so very inspiring that everything in the Ashrama went on in an orderly and systematic way. Once a student actually asked Hari Maharaj to formulate a set of rules and regulations. "Why do you want rules?" the Swami said, "Is not everything on nicely and orderly without formal rules? Don't you see how punctual everyone is, how regular we all are? The Divine Mother has made Her own rules, let us be satisfied with that. We have no organisation, but see how organised we are. This is the highest organisation: it is based on spiritual laws."
In later days it was found that his method of chastisement was unique. He had a very loving heart, but usually he would keep his emotions under control and not give free play to them. Therefore a little reserved or a slightly apathetic attitude on his part helped to set the delinquent right. Once, to a young monk who was laughing loudly to the disturbance of others in an Ashrama in India, the Swami said by way of reproof, "Well, have you realised God, have you attained life's goal, that you can give yourself up so whole-heartedly to laughter?" A man of God as he was, he could not but talk in that strain even while scolding.
Swami Turiyananda began life with a firm belief in the utility of self – exertion, but ended in perfect resignation to the Divine will. His self-surrender was, however, no less dynamic than his early impetuosity to storm the citadel of God. These two attitudes may seem contradictory. But he himself explained how they are not. Birds fly about in the infinite sky on and on till they are tired and weary, then they sit on the mast of a ship for rest. The same is the case with a man who believes in self-exertion. He strives and strives, knocks, but with every striving his egotism receives a blow till at last it is completely smashed, and he realises that the Divine Mother is everything. But to reach that ultimate stage one must struggle sincerely and earnestly. There should be no self-deception in spiritual life. Because people forget that surrender to the Divine Will becomes identified with a drifting life of inertia in the case of many.
We cannot do better than conclude this article in the Swami's own words: "I have done what one, being born a man, should do. My aim was to make my life pure. I used to read a great deal, eight or nine hours daily. I read many Puranas and then Vedanta, and my mind settled on Vedanta. When I first read the verse in which it is said that life is meant for the realisation of Jivamukti (freedom in this very life), I leapt in joy, for that indeed was the purpose of my life."
Compiled and Edited by Swami Gambhirananada
The Apostles of Sri Ramakrishna
Advaita Ashrama; Mayavati; June 1995
His teachings
Never pride yourself on your having gained control over the passions. If you do, they will at once raise their heads. Ever pray to Him, "O Lord save me from them." Meditate on His lotus feet, the senses will withdraw of themselves and the mind lose itself in Him.
Mere suppression of passion helps little. There must be a high ideal along with self -restraint. Without a high ideal, the passion will find another outlet. You must give them a new direction then you will be automatically rid of them. "Take refuge in Me and control senses." As for example lust. The Master explained: "What is lust? It is the desire to get. Then desire to get Him, and strengthen this desire greatly."
They say that work binds. Well, if it binds, it also unbinds. Selflessly done, it leads to salvation. What kind of meditation is this – half an hour in the morning and half an hour in the evening! Must not there be an uninterrupted flow throughout the day?
Work done in the spirit of service can lead one as surely to the goal as meditation and Japa.
Compiled and Edited by Swami Gambhirananada
The Apostles of Sri Ramakrishna
Advaita Ashrama; Mayavati; June 1995