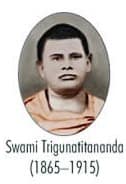 An introduction | The life story | His teachings
An introduction
Monastic Name: Swami Trigunatitananda
Pre-Monastic Name: Sarada Prasanna
January 1865
Born on 30th January 1865, his parents believed that he was born to them through the grace of the Divine Mother Durga.
1884
Met Sri Ramakrishna for the first time at Dakshineswar. He was studying in M.'s school, and was depressed for the loss of his gold watch. Therefore M. brought him to meet the Master on 27 December 1884
January 1886
Heard that his parents had arranged his marriage, and ran away from home, took the Masters blessings as Cossipore (the Master didn't know he had run away), and left for Puri on foot.
1886
Started living at Baranagore Monastery after the passing away of the Master against his parents wishes. His family tried numerous Homas and sacrifices to try and deter him from the spiritual path, but to no avail.
December 1886
Took the vows of renunciation guided by Swamiji, alongwith seven other brother disciples at Antpur on Christmas eve.
January 1887
Took final monastic vows with other brother disciples by performing the traditional viraja homa in front of the Master's picture.
May 1887
Tired of his parents and relatives attempts to pull him back to a worldly life, he tried running away to Vrindavan on foot, but came back. Swami Vivekananda asked him to live in the holy company of his brother disciples.
1891 onwards
Went on various pilgrimages to Varanasi, Dwaraka, Mathura, and the Himalayas. He undertook practices and challenges that no one else would have dared, and also destroyed misconceptions of villagers where he went with his analytical mind.
1894 – 95
Was Holy Mothers attendant at Nilambar Babu's garden house at Belur. Was extremely thoughtful and resourceful in every action.
1899-1902
After the passing away of Swami Yogananda, he took charge of Holy Mother's physical needs, in addition to editing the Udbodhan – the monthly magazine of the Order. His zeal to serve was almost an obsession.
1903
Took over the work at America (San Francisco), after Swami Turiyananda came back, having worked there for 3 years already. Gave lectures on the Gita and the Upanishads. The crowds were so huge that they had to soon shift to a larger location.
25 August 1905
Laid the cornerstone for a Temple at San Francisco. This was the first Hindu Temple in the Western world, and the first services were held here on Sunday 15 January 1906. Trigunatitananda had planned the temple himself, combining ideas from a Hindu temple, Christian church, Muslim mosque and an American residence.
1905 – 1915
Trained monastics, teaching by way of forceful maxims like "Eternal vigilance is the price of liberty', 'Do it now', and through personal example – living a life of an uncompromising ascetic. Went to Shanti Ashrama for one month a year. He enforced a strict disciplinarian lifestyle, and those who had the privilege of attending the classes could hardly forget their unique experiences. They were surcharged with the spirituality of Trigunatitananda.
27 December 1914
Trigunatita was lecturing from the podium of the temple in San Francisco when a young man in the front row – (Louis) a former student of Trigunatita, threw a bomb, and was killed. The Swami was injured. (Louis has been in an unbalanced condition and the Swami had advised him to go to the country where the surroundings would be soothing.) Even though he was in an injured condition, the Swami's mind was filled with pity for his mentally student, and he kept asking whether he was alright.
10 January 1915
As predicted by him on the 9th of January (previous day), he left his body. In 1916, his relics were installed on the top of the highest hill, Siddha Giri, the "Hill of Realization" at Shanti Ashrama.
His immortal message that lives on after him is "Work hard. Discipline yourself. Build your character. Endure to the end. Realize your Self. And be free."
Compiled from various sources
The life story
The family name of Swami Trigunatitananda was Sarada Prasanna Mitra. He was born in an aristocratic family of Twenty-four Parganas on 30th January 1865. His parents believed that Sarada was born to them through the grace of the Divine Mother Durga, and therefore they named the child after Her.
While a boy of fourteen, he was admitted into the fourth class of the Metropolitan Institute of Shyampukur where Mahendra Nath Gupta or 'M'., the great devotee of Sri Ramakrishna was the headmaster Brought up in the atmosphere of an aristocratic family, Sarada looked upon some works as reserved only for menials. But one hot day when Sarada had arrived at Dakshineshwar, the Master asked the boy to bring water and wash his feet. There were many friends of Sarada standing near, which made the situation all the more embarrassing. Sarada's face became flushed with a sense of humiliation. He did not know what to do. But the Master definitely asked him again to do the work. There was no other way. Sarada willy-nilly obeyed. But this incident for ever broke down the feeling of aristocracy in the innocent boy and implanted in him a spirit of service.
Swami Trigunatita had always a great hankering for places of pilgrimage, but his love for Swamiji kept him confined to the Baranagore Math. At last in 1891 he started on a pilgrimage and visited Vrindavan, Mathura, Jaipur, Ajmer and Kathiawar. After finishing the pilgrimages he stayed in Calcutta for some time at the house of a devotee and spent his time in deep studies. Swamiji asked him to go to San Francisco in America to replace Swami Turiyananda who was returning to India. Swami Trigunatita was ready to obey any command of the leader, and he agreed to go to the West.
The Swami was fond of forceful maxims. When someone recited the great watchword of the American Republic, "Eternal vigilance is the price of liberty," he made him repeat it. Some of the mottos hanging in every room of the monastery were: "Live like a hermit, but work like a horse"; "Do it now"; "Watch and pray"; and one which he constantly quoted, "Do or die, but you will not die."
The Swami's life was an example to others in every respect. But he was under the continuous scrutiny of some young men for any deviation from his own percepts. There were those who never questioned, but there were some doubters, or unwilling believers, and these were eventually satisfied. For all that they found in his character was the one consuming purpose to give his life for the salvation of others, and that all of his undertakings were only means to that end. A great disciplinarian of the highest order, his was the brightest example of what a disciplined life should be.
He ever maintained his Sanyasin life and, notwithstanding his various ailments, insisted on sleeping on the floor of his office, a light mattress being the only concession he would make to the entreaties of those concerned for his health and comfort. In addition to his unceasing daily labours, the Swami cooked all the meals for the monastery, so that the young men might eat pure, Sattvika food, so very essential for the growth of spiritual life. Always to bed later than the others, he was yet the first to rise. This he did, not for a day or a month, but from year to year. He was the model of punctuality and regularity. This discipline in punctuality was all the more remarkable when it is remembered that, in the first place, it was not natural to him, and in the second place, his mendicant life aimed at destroying the very idea of time itself. Seeing, however, the value of the virtue of punctuality in the lives of spiritual aspirants, he bent his will to be punctual himself and then required it of his disciples.
As he had his mind fixed on the inner core of things, possible external bad results never deterred him. To the genuine disciple he would say, "I don't mind if I break every bone in your body, so long as I can drag you up to the shores of the Ocean of immortality and throw you in; then my work will be finished.
Compiled and Edited by Swami Gambhirananada
The Apostles of Sri Ramakrishna
Advaita Ashrama; Mayavati; June 1995
His teachings
Our devotion must not be dependent on any particular action, quality, or form of His; our devotion must be without any motive. It is extremely bad if our devotion increases when He is kind and it takes to flight when he is cruel or does not heed our prayers. But I concede that for the beginners, devotion cannot be free from motives altogether.
One should cultivate goodwill for others in one's mind with great assiduity, cordiality, and sincerity. One who keeps one's mind ever filled with goodwill for others can get a thousand faults of his own burnt to ashes and he comes to be remembered as a saint. Through goodwill for others he rises from lassitude to activity, from poverty to wealth, from miserliness to generosity, from insignificance to fame, and from ignorance to wisdom, nay from muteness to oratory and from lameness to a scaler of mountains. So powerful is goodwill.
How many times and in what infinite ways have we been born and reborn! But in no life did we take shelter under God. It does not take such a long time to surrender oneself to God. It does not take even a single life to dedicate oneself to His lotus-feet, nay it does not take even a moment! The only thing needed is the will to do so. So easy it is, and yet we fail!
A man becomes perfect in proportion as he rises above the ideas of body etc. But nobody can recognize a perfect man unless he is himself one.
Compiled and Edited by Swami Gambhirananada
The Apostles of Sri Ramakrishna
Advaita Ashrama; Mayavati; June 1995