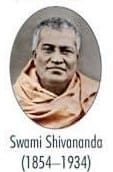 An introduction | The life story | His teachings
An introduction
Monastic Name: Swami Shivananda
Pre-Monastic Name: Tarak Nath Ghoshal
November 1854
Born on 16th November to Ramkanai Goshal a devout Brahmin and Vamasundari Devi, by the blessings of Tarakeshwar Shiva.
Around 1870 or so
Married against his wishes, but took full responsibility of his wife and gave her spiritual advice and guidance. Was fully absorbed in the idea of how to forget the world and attain Samadhi.
May/ June 1880
Met Sri Ramakrishna for the first time at Kolkata.
Mid 1883
Tarak Nath's wife fell ill and expired
1884
Went on a pilgrimage to Vrindaban and carried some sacred dust and Prasad from the holy city for the Master.
January 1886
Got ochre cloth (monastic robes) and rosaries distributed by the Master among 12 of his disciples.
April 1886
Went to Boudh Gaya with Narendra (Swami Vivekananda) and Kali (Swami Abhedananda) for practicing meditation and austerities. Narendra saw Buddha enter into Tarak's body.
December 1886
Took the vows of renunciation guided by Swamiji, alongwith seven other brother disciples at Antpur on Christmas eve.
January 1887
Took final monastic vows with other brother disciples by performing the traditional viraja homa in front of the Master's picture.
March 1889 – 1896
After having lived with brother disciples and practiced austerities at Baranagore monastery, he felt an urge to lead the free, detached life of an itinerant monk, and went on a pilgrimage to the Himalayas. He was in and out of the of the monastery and travelling, till Swami Vivekananda came back from America.
January 1897
Went to Madurai to receive Swamiji on his return from America, and went to Almora with him for rest.
1897 – 1898
Went to Sri Lanka on Swamiji's request to preach Vedanta and stayed there for 7-8 months. There he trained Mrs. Picket and sent her to teach Vedanta in Australia.
1900 – 1902
Travelled with Swamiji (after his return from the West) to various places in Uttar Pradesh, Himalayas, Varanasi, etc.
1902 – 1909
Concentrated on establishing a permanent centre in Varanasi. Handed over its management to his assistant in 1909 and returned to Belur Math.
1910 – 1914
Another round of travels to Kashmir, Amarnath, Kankhal (Hardwar), Almora, and Varanasi. Some of these travels were alone, and some with brother disciples.
1915 – 1920
Stayed at Belur Math and trained young monastics.
1922 onwards – as the President of the Order
Was made a trustee of the Ramakrishna Math and Mission by Swami Vivekananda in 1901, and became vice-president in 1910. After the passing away of Swami Brahmananda in 1922, he was elected the President of the Order.
As president, he acted as an instrument in the Master's hands. During his presidency, the activities of the Math and Mission expanded considerably.
1924 – dedications of Temples, and the Golden era for the Order
28 January 1924 – dedicated the Vivekananda Temple
7 February 1924 – dedicated the Brahmananda Temple
During his presidency, stalwart Swamis – Prabhavananda, Dayananda, Madhavananda, Jnaneswarananda, Ashokananda, Nikhilinanda, Vijayananda, Devamatananda, and others were sent to North and South America, and Europe. It was a golden era for the Order in terms of spreading the message of the Master throughout the world.
1924 onwards
Travelled extensively once again, and had many spiritual experiences. Went to South India in 1926, and inaugurated the building of a new ashrama in Ootacamund.
20 February 1934
Nine months after a stroke, and a recent attack of pneumonia, he passed away, his face was beaming with joy, and his hair stood on end – both considered as auspicious signs.
One day he humbly said to a monk: "Look, I am my Master's dog. As a dog protects the precious wealth of its master from robbers, so I am protecting the valuable spiritual treasures [discrimination, renunciation, knowledge, devotion] of the Master in this Monastery. He who stays here like a faithful dog will attain the greatest good."
Compiled from various sources
The life story
Swami Shivananda, more popularly known as Mahapurush Maharaj, was a personality of great force, rich in distinctive colour and individual quality. His leonine stature and dauntless vigour, his stolid indifference to praise or blame, his spontaneous moods and his profound serenity in times of storm and stress, invested with a singular appropriateness his monastic name which recalls the classical attributes of the great god Shiva.
He was born sometime in the fifties of the nineteenth century on the 11th day of the dark fortnight in the Indian month of Agrahayana (Nov-Dec.). The exact year of his birth is obscure! The Swami himself with his characteristic indifference to such matters never remembered it. His father had indeed prepared an elaborate horoscope for his son, but the latter threw it away into the Ganga when he chose the life of renunciation.
His early name, before he took orders, was Tarak Nath Ghosal.
One day at the end of 1880 he heard that Sri Ramakrishna would come to Ram Chandra's house on a visit. He decided to seize the opportunity of meeting him on the occasion. When the long-desired evening came, he went to Ram Babu's house where he found Sri Ramakrishna talking in a semi-conscious state to an audience in a crowded room. Tarak hung on his words. He had long been eager to hear about Samadhi, and what was his surprise when he found from the few words he caught that the Master had been talking on the very subject that day. He was beside himself with joy. He left the room quietly some time after. It had made a profound impression upon him. Tarak began to feel an irresistible attraction for Sri Ramakrishna and resolved to meet him the next Saturday at Dakshineshwar.
While Tarak was still in service, his father was forced through poverty to agree to giving Tarak's sister Nirada in marriage to a family from which he would accept a girl as Tarak's bride. Much as Tarak disliked the idea, he was compelled to marry for the sake of his sister. He had resolved not to live a worldly life; but before he actually renounced the world, he opened his heart fully to the Master, who said, "Why should you be afraid? For I am there to help you. You have of course to look after your wife so long as she lives. Have a little patience, and the Mother will settle everything." Tarak followed the Master's advice; he earned for his wife, but avoided all other relationship with her.
That he was successful in this endeavour is evident from a letter which he wrote in his old age to Romain Rolland. There Swami Shivananda declares that he led an absolutely pure life of unbroken celibacy. Tragic as the event was, Tarak's wife did not live long after his meeting with the Master. Tarak's purity and prayer, Sri Ramakrishna's advice and encouragement and the grace of all merciful Providence did not allow him to fall a victim to the snares of the world. The perfect purity of his married life earned for him the popular name of Mahapurush from the great Swami Vivekananda.
Shortly before Swamiji passed away, the Raja of Bhinga gave him Rs. 500 for Preaching Vedanta. Swamiji handed the money over to Swami Shivananda asking him to start an Ashrama with it at Varanasi, which he did in 1902.
Not only did his life stand out as the fulfillment of the ideal aspirations of the devotee, as an ever present source of inspiration, but his kindness and pity issued forth in a thousand channels to the afflicted and the destitute.
The real is that which is an object of experience. To Swami Shivananda God and religion were not vague words or distant ideals, but living realities. Lives like his light up the dark recesses of history and point to the divine goal towards which humanity is travelling with growing knowledge.
Compiled and Edited by Swami Gambhirananada
The Apostles of Sri Ramakrishna
Advaita Ashrama; Mayavati; June 1995
His teachings
It is only by doing selfless work that the mind gets purified. And when the mind is purified, even the slightest suggestion would fill your heart with devotion for the Lord. If the mind be not purified, you may practice Japa to any extent, nothing will result by way of spiritual progress. What can Japa do if the mind is full of selfishness, jealously, hatred, etc.? It is because the country is engrossed in Tamas (inertia) that Swamiji has prescribed work as a means to raise it up. You talk of patriotism. What else can be greater patriotism than love for the poor and being of service to them?
Don't yield to despondency. It makes the mind restless. Always think that you are all blessed, that you are the children of the Lord. If evil thoughts come to your mind, don't pay any heed to them. There are impressions of past lives in the mind and now and then they come to the conscious plane. Have strength. There is no fear. You will get everything in time.
Compiled and Edited by Swami Gambhirananada
The Apostles of Sri Ramakrishna
Advaita Ashrama; Mayavati; June 1995