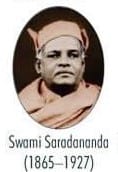 An introduction | His teachings
An introduction
Monastic Name: Swami Saradananda
Pre-Monastic Name: Sharat Chandra Chakravarty
December 1865
Born on 23rd December to Girish Chandra Chakravarty and Nilmani Devi, devout Hindu Brahmins, and well-to-do partners of a large foreign-medicine pharmacy.
1883
Joined St. Xavier's College and was tutored in the Bible and Christianity by the noble principal of the college – Father Laffont.
October 1883
Met Sri Ramakrishna with cousin Shashi (later Swami Ramakrishnananda) for the first time at Dakshineswar. The Master instantly recognized them as his own.
January 1886
Got ochre cloth (monastic robes) and rosaries distributed by the Master among 12 of his disciples.
December 1886
Took the vows of renunciation guided by Swamiji, alongwith seven other brother disciples at Antpur on Christmas eve.
January 1887
Took final monastic vows with other brother disciples by performing the traditional viraja homa in front of the Master's picture.
March 1887 – 1891
Went on pilgrimages to Puri, Himalayas, Varanasi, etc. and spent time in meditation and austerities. These days were filled with thrilling spiritual experiences and first hand encounters with suffering, illness, as well as the spirit of human generosity.
March 1896
Left for England to assist Swami Vivekananda in his work there. Although he had no previous experience, he started giving lectures on there Gita. He proceeded to America in June 1886, and continued his lecturing ther as well.
January 1898
Was called back to India by Swami Vivekananda just when he was at the height of his usefulness in America, to help him organize the Ramakrishna Mission at Belur.
1898 – 1927
Was made the General Secretary of the Ramakrishna Math and Mission by Swami Vivekananda (while Swami Brahmananda the President), and remained the chief organizer for almost 3 decades.
1899 – 1900
Lectured in Bangladesh and Barisal on 'Vedanta, the Universal Religion', 'Origin and development of religion', 'Synthesis of Jnana, Karma, and Bhakti', etc.
1908 – 1909
Built the "Udbodhan" house for Holy Mother to live in Kolkata, and a few years later, built a house for Her at Jayrambati (her maternal place where she would go when she was not in Kolkata)
1904 – 1920
Poured his heart and soul into serving Holy Mother in spite of his diverse activities and heavy duties in connection with management of the Ramakrishna Math and Mission.
1909
Began to write his monumental work Sri Sri Ramakrishna Lilaprasnanga in Bengal, which has been translated into English as Sri Ramakrishna The Great Master. It is an authentic, interpretive biography of the Master, and a classic in Bengali Literature.
January 1917
Wrote a memorandum containing 12 points to Lord Carmichael to clear doubt and misunderstanding in their minds about alleged involvement of the Mission with revolutionaries. (The Mission policy is not to involve itself in politics). On 26th March the Governor withdrew his statement against the Mission after a meeting with Swami Saradananda, – a rare event during the British rule in India.
1926
Gave two important and inspiring speeches as chairman of the first convention of the Ramakrishna Math and Mission – "Ramakrishna Mission: Its Past, Present, and Future", and "The Ideas, Ideals, and Activities of the Ramakrishna Mission"
19 August 1927
He breathed his last on the birth anniversary of Sri Krishna.

Swami Nikhilananda (the translator of the Gospel of Sri Ramakrishna) wrote in his reminiscences: "Whenever I think if Swami Saradananda I remember the following verse of the Bhagavad Gita: ' Not the desirer of desires attains peace, but he into whom all desires enter as the waters enter the ocean, which is full to the brim and grounded in stillness'(2.70)"
Compiled from various sources
His teachings
First you have to attain knowledge. After attaining knowledge, when one returns to this world of diversity, one will see everything as before, but will no longer be attached to anything in it. After one realizes God, the world seems to be a mere appearance like the mirage. There is nothing in it that can attract one.
No man is wholly above defects. But some try to get rid of them, while others do not feel any need for that. Since you have taken refuge at the Lord's feet, you certainly feel the need of eliminating them and have also the will to do so, and the Lord too will grant you the strength for this.
If the mind continues to be unsteady pray to the Lord, "Lord, kindly make my mind steady!" Know this for certain that He hears whatever you say, and knows whatever passes in your mind.
Both peace and peacelessness come to us, for the sake of our own experience, according to God's dispensation, but we have to remain steady under all circumstances by holding on to Him. Again, from one point of view, peacelessness appears to be the more welcome, for then one can call on the Lord with greater earnestness.
Our scriptures say, and we too proclaim that all men are the images of the Lord. But what do we do in practice? We do not scruple to despise sweepers and other low caste people. We treat our women as slaves – those in whom lies dormant the wonderful strength of the Mother of the universe! Only at the time of worship do we simply utter the words that all women are but images of the Divine Mother!
Compiled and Edited by Swami Gambhirananada
The Apostles of Sri Ramakrishna
Advaita Ashrama; Mayavati; June 1995