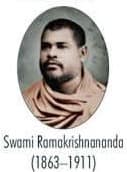 An introduction | The life story | His teachings
An introduction
Monastic Name: Swami Ramakrishnananda
Pre-Monastic Name: Shashi Bhushan Chakravarty
July 1863
Born on Monday 18th July to Ishwar Chandra Chakravarty, a tantric devotee, and, Bhavasundari Devi – a guileless and pious woman.
October 1883
Met Sri Ramakrishna with cousin Sharat (later Swami Saradananda) for the first time at Dakshineswar. The Master instantly recognized them as his own – and that they had been among the followers of Christ.
January 1886
Got ochre cloth (monastic robes) and rosaries distributed by the Master among 12 of his disciples.
1886
Took the vows of renunciation guided by Swamiji, alongwith seven other brother disciples at Antpur on Christmas eve.
January 1887
Took final monastic vows with other brother disciples by performing the traditional viraja homa in front of the Master's picture.
1886 – 1897
Kept constant vigil over the Sri Ramakrishna's relics after His passing away at the Baranagore Monastery, seldom visiting any holy place or leaving the monastery overnight. All this when all his brother disciples went off on pilgrimages as it inerant monks, to the Himalayas and other parts of the country. He served the Master as one serves a living human being, with an uncompromising attitude of service to Him. He also looked after all the needs of the brother disciples when they were at the monastery.
1897
At Swami Vivekananda's command, went to Chennai to set up a Math there. He set up a Math, conducted various lectures and classes, and trained monastics at this Math, always knowing that he was spreading the message of His Master at the command of Swami Vivekananda.
1906
Holy Mother – Sri Sarada Devi and Swami Premananda came to South India for a pilgrimage and Swami Ramakrishnananda made all arrangements for them and even travelled with them.
November 1907
Dedicated a new temple to the Master at Chennai, on 17th November, the foundation stone for which has been laid by Swami Abhedananda.
1897 – 1911
Travelled all over South India and preaching the Hindu religion and philosophy as well as the message of Sri Ramakrishna.
April 1911
After 14 years of working hard to spread the message of Sri Ramakrishna and Swami Vivekananda in South India, he became seriously ill with diabetes and tuberculosis and on the command of Swamis Brahmananda and Saradananda, he moved to Calcutta in June 1911 for recuperating.
21 August 1911
Left his body while in Samadhi
Swami Vivekananda on Swami Ramakrishnananda (about how he looked after the brother disciples at the Baranagore Monastery, after the passing away of Sri Ramakrishna) – "Oh, what a steadfastness to the ideal did we ever find in Shashi! He was a mother to us. It was he who managed about our food. We used to get up at three o'clock in the morning. Then all of us, some after bathing, would go to the worship room and be lost in Japa and meditation. There were times when the meditation lasted to four or five o'clock in the afternoon. Shashi would be waiting with our dinner; if necessary, he would by sheer force drag us out of our meditation. Who cared then if the world existed or not!"
Compiled from various sources
The life story
Even while (Swamiji) Swami Vivekananda was in the midst of his arduous labours in the West, he realised that more important work was awaiting him in India. When the great leader returned to the motherland and made his triumphal tour from Colombo to Almora, it was in the city of Madras that he first intimated to eager listeners his plan of campaign. Some of the citizens approached Swamiji with the request that he should kindly send one of his brother-disciples to stay in Madras and establish a monastery which would become the centre of the religious teachings and philanthropic activities outlined by Swamiji in his addresses delivered in India and abroad. By way of reply he said, "I shall send you one who is more orthodox than your most orthodox men of the South and who is at the same time unique and unsurpassed in his worship of and meditation of God." The very next steamer from Calcutta brought to Madras Swami Ramakrishnananda.
In a few words the leader had summarised the individual characteristics of the apostle in relation to the field of work for which he was chosen. South India has all along been the stronghold of orthodox Hinduism. In order to infuse new life into the ancient religion without breaking the continuity of the tradition, the apostle to the South had to be a person of great intellectual attainments, of unflinching devotion to the ideals, and of deep reverence for the forms of worship and religious practices sanctified by the authority of a succession of great teachers. Swami Ramakrishnananda or Shashi Maharaj, as he was familiarly called, possessed all these and, in addition, he had an overflowing kindness abounding sympathy for all, and a childlike nature which exhibited the inner purity of the soul.
Shashi Bhushan Chakravarti – that was the name by which Swami Ramakrishnananda was known in his premonastic days – was born in an orthodox Brahmin family of the Hooghly district, Bengal, on 13th July 1863.
Then came the period of supreme depression. The boys who were children of the Master gathered together at the newly founded monastery at Baranagore. Shashi played no small part in holding the young band together and in regulating the routine of life to be followed by them. While others were indifferent as to whether the body lived or went in their intense search for the Highest, Shashi took care that his brother-disciples had not to face starvation actually. He went so far as to serve as a schoolmaster-though for a very short period his brothers, "You just continue your spiritual practices with undivided attention. You need not bother about anything else. I shall maintain the Math by begging." Swamiji recalling these blessed days many years later, said with reference to Swami Ramakrishnananda, "Oh, what a steadfastness to the ideal did we ever find in Shashi! He was a mother to us. It was he who managed about our food. We used to get up at three o'clock in the morning. Then all of us, some after bathing, would go to the worship room and be lost in Japa and meditation. There were times when the meditation lasted to four or five o' clock in the afternoon. Shashi would be waiting with our dinner; if necessary, he would by sheer force drag us out of our meditation. Who cared then if the world existed or not!"
If Shashi's devotion to the Guru was beyond comparison with any earthly example, his love for Swamiji whom Sri Ramakrishna had ordained as the leader of the whole group, was wonderful. Any word from the leader was more than a command to him. There was no trouble which he would not face, no sacrifice which he would not make in deference to the slightest wish of Swami Vivekananda. This spirit was so strongly manifest in him, that Swami Vivekananda would at times make fun with him-taking advantage of his love. Shashi, as we have seen, was very orthodox in his attitude. One day the leader asked him, "Shashi, I want to put your love for me to the test. Can you buy me a piece of English bread from a Mohammedan shop?" Shashi at once agreed and actually did the thing.
After Swamiji's return from the West when he proposed to Shashi at once responded to the call. It meant that he would have to leave the place where he was so steadfastly worshipping the relics of the Master. But these were no considerations against the wish of the leader.
After the Master had discouraged his book-learning, Shashi lost all interest in study. His whole heart was centered in devotion and worship. Now he was asked to preach religion and philosophy. The great heart had to become the mighty intellect.
It was his love for humanity that impelled him to work so hard in Madras. But after some time the body gave indication that it could not longer stand the stress of so much hard work. Yet the spirit was there. The Swami did not listen to the whisper of the flesh. In spite of his indifferent health, he carried on his hard labour till the body completely broke down, and the doctors diagnosed the disease as consumption. Word was sent to Calcutta, and his fellow-monks there begged him to pass his last days with them. This he felt was best. He had thought of it, but not until the command came from the President of the Mission did he leave Madras. In Calcutta he was housed at the monastery in Baghbazar, and the most noted physicians visited him of their own accord. But his condition grew worse.
Most remarkable, however, was the strength of his spirit which burst forth in eloquent discourses concerning high spiritual matters, even whilst the body suffered most. One who loved him dearly, noticing him speak thus in this distressed state of body, asked him to desist. "Why?" came the reply, "When I speak of the Lord, all pain leaves me, I forget the body." Even in delirium his mind and his voice were given to God. "Durga, Durga", "Shiva, Shiva" and the name of his Master were ever on his lips. His great esteem and his love for Christ, which was manifest throughout his lifetime, revived and became eloquent. He would speak of how Sri Ramakrishna had regarded Christ and of how, when the Master had had the vision of Christ during Samadhi, the very body of the great founder of Christianity had entered into him.
Swami Ramakrishnananda entered into Final Realisation on 21st August 1911.
Compiled and Edited by Swami Gambhirananada
The Apostles of Sri Ramakrishna
Advaita Ashrama; Mayavati; June 1995
His teachings
What makes the mind impure? Desire. Free the mind of all desires, and at once it becomes pure. A man, however, who has no idea of God, cannot get rid of desire. The lover of God sees that instead of bringing enjoyment, these desires are the source of all miseries. He understands that in God alone he can find the satisfaction of all desires, for He is infinite bliss, and all other pleasures are finite and perishable.
We seek matter first and spirit afterwards. We should reverse the process. Our hearts also must be free from Him in the world, we really love the world not God and we can never be true devotees. The true devotee loves God just for the joy of loving Him, because God is the Beloved.
So long as we have no ideal to follow, we will have to heed the calls of our lower nature. A characterless man is a slave to all worldly enjoyments.
All religions teach the necessity of hero-worship. Who is a hero? The man who has realised his oneness with God, who has self-knowledge. For religion is not a matter of talk or learning or faith, but a matter of realisation. A man of realisation alone is the true teacher, the Guru. So you must hear, study, understand, and then try to realise with the aid of a real Guru.
The path which leads you to realise life eternal is not by the exercise of your outgoing energies but by your ingoing energies. You must collect your energies and direct them inwards.
Always mixing with the world and identifying ourselves with the body, we are prone to forget religion which awakens us to the real state of affairs which we are in and opens to us the gate of eternal bliss, and keeps us away from being drawn down to the abject life of beasts-doing nothing but eating and drinking and making merry. Such being the case, there must be something that will occasionally remind us as to who we are, and what we should do so that we may not be altogether forgetful of our duties here. It is religion that fulfils this purpose.
Compiled and Edited by Swami Gambhirananada
The Apostles of Sri Ramakrishna
Advaita Ashrama; Mayavati; June 1995