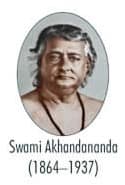 An introduction | The life story | His teachings
An introduction
Monastic Name: Swami Akhandananda
Pre-Monastic Name: Gangadhar Gangopadhyay (Ghatak)
September 1864
Born on 30th September 1864 in western Kolkata to Srimanta Gangopadhyay- a priest and Sanskrit teacher who also practised yoga and Tantra. His mother Vamasundari was a devout woman who prayed to God for a son (after having 3 daughters), and thus Gangadhar was born.
1876 – 77
Met Sri Ramakrishna for the first time at Dinanath Basu's house in Kolkata along with his friend Harinath (later Swami Turiyananda)
At the age of 12
Met a monk, and left home with him without informing his parents. The monk later suggested that he return home as he was too young for monastic life, and his parents were overjoyed to have him back.
May 1883
Visited Sri Ramakrishna at Dakshineswar and was initiated into a mantram by the Master.
January 1886
The Master distributed ochre cloth (monastic robes) and rosaries to 12 of his disciples. Gangadhar and Harinath got them from the Master on another day.
December 1886
Took the vows of renunciation guided by Swamiji, alongwith seven other brother disciples at Antpur on Christmas eve.
February 1887
Took the monastic robes given to him by the Master, and left the monastery without telling anyone. Only his noble father came to the station to see him off with the blessing "Go, my son. Fulfil your mission in life. This world is unreal. I bless you: May you attain unflinching devotion to God."
Travelling – from 1887 onwards
Travelled to Gaya, Varanasi Hardwar, Rishikes, Gangotri, Kedarnath, Badrinath and such other places. He depended wholeheartedly on Sri Ramakrishna, and boldly travelled on routes where others would fear to go. He served people however he could along the way.
Tibet
Visited Tibet three times – the last visit being in 1889. He learnt the language in 15 days, and spoke on behalf of the poor to the luxury loving lamas. For this he loved by the poor and kept captive, and tortured by the lamas. During his last visit, since he was familiar with the Tibetan people, their language, customs etc., the British Govt. offered him a consul's post which he refused.
June-July 1890
After being away for 3½ years, came back to Baranagore Monastery where his other brother disciples were extremely happy to have him back. In the first week of July, on Swami Vivekananda's advice, he took the final monastic vows before Sri Ramakrishna's picture and then became Swami Akhandananda (undivided bliss).
Mid-July 1890-1892
Swamiji wanted to practise austerities in the Himalayas, and so in mid-July took him as companion. Later, in June 1892 he reached Jamnagar after extensive travels through UP, Gujarat, and Rajasthan.
1893 – service of God in man
In Khetri, he started his mission – the service of God in man. He wrote a letter to Swamiji in America asking him for guidance for his mission. Swamiji replied –
"Go from door to door amongst the poor and lower classes of the town of Khetri and teach them religion. Also, let them have oral lessons on geography and such other subjects. No good will come of sitting idle and having princely dishes, and saying 'Ramakrishna, O Lord!' unless you can do some good to the poor …. It is preferable to live on grass for the sake of doing good to others. The ochre robe is not for enjoyment. It is the banner of heroic work…. The poor, the illiterate, the ignorant, the afflicted – let these be your God. Know that service to these alone is the highest religion."
The life of service
Akhandananda's activities are so vast and far-ranging that it is almost impossible to record all of them. He worked for the famine afflicted, for the poor, during earthquakes, etc., in all parts of the country. He also continued his preaching and distributed the Teachings of Sri Ramakrishna among the villagers.
1897 – 98 Sargachi – the permanent orphanage
Started a permanent orphanage and stayed there almost all the time till the end of his life.
1934
Became President of the order after the passing away of Swami Shivananda, but lived at Sargachi most of the time.
7 February 1937
Passed away at Belur Math at the age of 72
A few years before his passing away, he told a monk his life's philosophy: "The Master has still kept me alive for his work. Distribute your Self among others and bring other souls within yourself. You will see how much joy you will get from it. On the other hand if you are always busy about yourself, you will be entangled within yourself, you will kill your Self, and you will die. The more you disseminate yourself among the people, the more you will attain bliss and that will lead you to Self-realization."
Compiled from various sources
The life story
Swami Akhandananda or Gangadhar Gangopadhyay (Ghatak), as he was called in his pre-monastic life, was born on 30th September 1864, in Calcutta. Even from his boyhood he was of a deeply religious turn of mind, and had extremely orthodox habits. He bathed several times a day, cooked his one daily meal himself, read the Gita and other scriptures and regularly practised meditation.
This was his mode of life when he came in contact with Sri Ramakrishna probably in 1883 or 1884 at Dakshineshwar, which he visited with his friend Harinath (Swami Turiyananda). The Master, as was customary with him, cordially and asked him if he had seen him before. The boy answered that he had, when he had been very young, at the house of Dinanath Bose, a devotee who lived at Baghbazar. The Master made him stay overnight, and when he was taking leave the next morning, Sri Ramakrishna asked the boy, in his characteristic way, to come again.
Then began that close association between the Master and the disciple which afterwards ripened into a strong urge for renunciation of the world on the part of God in man. Every time he visited Dakshineshwar he was charmed to see some new phase of Sri Ramakrishna's God -intoxicated life. He felt the silent transforming influence of his love and received practical instruction from him on spirituality. Under this tutelage, Gangadhar gradually dropped his over – orthodox observances, which the Master described as "oldish", saying "Look at Naren (Swami Vivekananda). He has such prominent eyes! He chews a hundred betel rolls a day, and eats whatever he gets. But his mind is deeply introspective. He goes along the streets of Calcutta seeing houses as full of God! Go and see him one day. He lives at Simla (a district of Calcutta). The next day Gangadhar saw Narendra Nath and at once understood the truth of the Master remarks, to whom he reported his impressions, and the Master wondered how the boy could learn so much in a single interview. Gangadhar said, "On reaching there, I noticed those prominent eyes of his and found him reading a voluminous English work. The room was full of dirt, but he scarcely noticed anything. His mind seemed to be away beyond this world". The Master advised him to visit Narendra Nath often. This was the foundation of his abiding devotion and allegiance to Swamiji, the hero of his life.
Shortly after Swami Vivekananda's departure for America in May, 1893, Swami Akhandananda learnt from Swami's Brahmananda and Turiyananda, at Mt. Abu that the real motive of the leader's journey to the West was to find bread for the hungry masses of India. For the sight of their crushing poverty and misery was too much for him, and he considered it absurd to preach religion to them without first improving their material condition. This communication made little impression upon Swami Akhandananda at the time. Then he fell ill and went for a change to Khetri, where, after six months' rest and treatment, under the care of Maharaja Ajit Singh, a staunch disciple of Swami Vivekananda, he regained his health. But those months gave him ample opportunity to come in close touch with all sections of people, high and low, rich and poor, and it was then that he realised the truth of Swami Vivekananda's words.
Now himself also burning with the desire to serve the poor and helpless masses, he wrote to Swamiji in America asking for his permission. The encouraging reply he received pushed him on, and in 1894, he began his campaign against poverty and ignorance. It did not take him long to realise that the appalling poverty of the masses could not be removed without proper education. Hence education became his first objective.
Again, during the terrible earthquake in Bihar in 1934, he old as he was, personally inspected the scenes of the ravage at Monghyr and Bhagalpur and gave impetus to the Mission's relief work in those areas. His whole life was full of such disinterested acts. To him all human beings in distress were veritable divinities, and he found intense joy in serving them. In this he literally carried out Swami Vivekananda's behest: "The poor, the illiterate, the ignorant, the afflicted – let these be your God. Know that the service of these alone is the highest religion."
He loved to work silently and unobserved among the dumb masses, and this is why, in spite of his indifferent health, he stuck to the village work at Sargachhi. He was made the Vice President of the Ramakrishna Mission in 1925, and President in March 1934, on the passing away of Swami Shivananda. The duties of the latter post required his presence at the Belur Math, but he preferred the solitude of Sargachhi, and was quite happy with his orphan boys, supervising the agricultural work and taking care of the valuable collection of trees and plants in the orchard. Routine work was distasteful to him. Throughout his life, however, he was a lover of books and gathered a great store of knowledge on diverse subjects.
He had a prodigious memory, which coupled with his strong power of observation and dramatic sense, made him a first rate conversationalist. His adventurous life as a penniless itinerant monk throughout Northern and Western India, particularly his experiences in Tibet, furnished him with inexhaustible materials for conversation, and he would keep his audience spell bound with narrations of the privations and dangers he had gone through, and the rare experiences he had gained in exchange for them.
It was a cherished desire of his to give up the body, not there but at the Belur Math, the place that was sanctified with a thousand and one memories of his beloved brother-disciples from the great Swami Vivekananda downwards. This wish of his was providentially fulfilled, since he was taken to Calcutta for better medical treatment, a couple of days before his passing away.
A month earlier, Swami Akhandananda had written to the Advaita Ashrama, Mayavati, asking for the wording of a Sanskrit couplet that had appeared in the April number of the Prabuddha Bharata in 1927, in an article entitled "Neo-Hinduism". It ran as follows:
"I do not cover earthly kingdom, or heaven, or even salvation. The only thing I desire is the removal of the miseries of the afflicted." The idea expressed in the couplet was so much after the Swami's heart that even after the lapse of ten years, on the eve of his departure from this world, he wanted to know its precise reading. Swami Akhandananda entered Mahasamadhi at the age of 71, at the Belur Math on 7th February 1937.
Compiled and Edited by Swami Gambhirananada
The Apostles of Sri Ramakrishna
Advaita Ashrama; Mayavati; June 1995
His teachings
Be quite sincere and straightforward, and never be crooked. Your heart will expand along with your sincerity and straightforwardness. Be always open and above board in all your dealings, never play at hide and seek. Straightforwardness is a great virtue. A man's heart is pure in proportion, as he is open in his behaviour. Try always to have a pure mind and holy thoughts, and also physical cleanliness.
The Lord has to be served with one's body, mind, and possessions. Merely to sit quiet and make Japa will not do. Do serve Him a little with your body, mind, and possessions. Merely to sit quiet and make Japa will not do. Do serve Him a little with your body as well. And what can mere sitting quiet do? For I find you getting irritated at the slightest provocation; your mind is full of anger, can that be the result of long meditation in the shrine? The Master used to say that attainment of perfection means becoming gentle. Maintain your equanimity under all circumstances.
One should not blame anyone without knowing facts fully. One should rather find fault with oneself first. Know it for certain that pride goes before a fall. This I know from my personal experience.
Compiled and Edited by Swami Gambhirananada
The Apostles of Sri Ramakrishna
Advaita Ashrama; Mayavati; June 1995